Daddy-O
Shampoo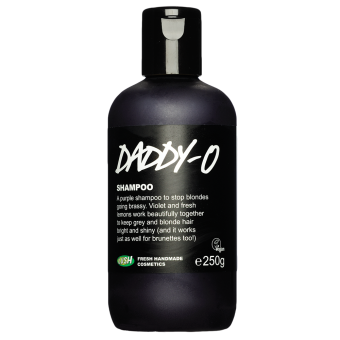 Daddy-O works to add volume and shine to your hair. It's the lemon and organic lime juice which allow the cuticles to lie flat and reflect more light, helping the hair to shine. We've created an infusion from toothed wrack seaweed and organic lemons, that cleanses and softens. Extra virgin coconut oil hydrates the hair, whilst fine sea salt gets to work by to softening and giving body to your hair. What makes this extra special is that it can revive your silver and blonde tones. 
List of ingredients
Isoeugenol
Alpha Isomethyl Ionone
Hexyl Cinnamal
Natural Ingredients
Safe Synthetics
*occurs naturally in essential oils.
We do not test our finished products on animals. We also only purchase from ingredient suppliers who do not test on animals. More.
Most Helpful
2/2 people found this helpful
Jessica Louise
About 9 months ago
Daddy-O is amazing at making my hair shiny. I'm brunette but have had the ends of my hair lightened to a more golden blonde colour so I thought I'd try this to see what it does, and it's just really good at maintaining that shine that can be lost from using standard shampoos. Plus it smells like those palma violet sweets so it's a win win really.
Top Rated
0/5 stars
Sarienzi
About 2 months ago
Up until I bought this a couple of days ago I've been using Touch of Silver to tone my bleached highlights. On first try this has given me at least as good a tone to my hair (no yellow terribleness). I used it in conjunction with the Daddy-O solid conditioner bar and my hair looked and felt amazing for the first time in months. Annoyingly it was in such great condition that I had to use loads of volumising product to give it lift (I have short, fine hair that needs lots of plumping to give it style). Still worth it though for happier hair :)
Latest
2 months ago
Eross7
About 2 months ago
Daddy -O is amazing my hair was smooth and shiny after I used it . It also smelled amazing I really enjoyed using this product I will definitely buy it again
Most Recent
Most Recent
Most Helpful
Top Rated